I like the idea of using a new perfume on your wedding day so that every time you wear it after it brings back memories of your special day. I´ve been trawling perfume shops spritzing and spraying, asking for samples, and then consequently getting home and forgetting which one was which. So after considering the ubiquitous and chic Miss Dior and Chloe, in the end I decided to go back to one I´ve always liked and always wished I had. It´s the EDP For Her by Narciso Rodriguez, a simple pink bottle and long lasting and
very feminine fragrance. This is what Sephora says:
Introducing a new fragrance of seduction and femininity - a warm, enveloping way to wear Narciso Rodriguez on the skin. Musc is at the heart of For Her Eau de Parfum. The fragrant harmony of the musc expressed itself through three pulsations; pink floral, soft amber, and voluptuous woods. It develops gently, slowly rounding out into the warm tones, dusted in a soft, velvety sensuality.
Notes:
Pink Chypre, Pink Floral, Voluptuous Woods, Soft Amber, Sheer Chypre, Flower Honey, Tactile Woods, Amber Light.
Style:
Seductive. Feminine. Velvety.
Me encanta el idea de llevarse un perfume nuevo en el día de tu boda para que después cuando lo llevas vas recordando de tu día especial. Estaba mirando y echando perfumes por semanas en varias perfumerías y pidiendo muestras y aplicando diferentes perfumes en tiras de cartón, solo cuando llego a casa olvido cual era cual. Decidí en no coger el de Chloe o Miss Dior, aunque son preciosos y chic, sino decidí en comprarme uno que siempre me ha encatado- EDP For Her por Narciso Rodriguez, es un simple botella rosa y tiene un oler duradero y tan femenina.
Lo que dice Aromas-
Una fragancia elegante, sensual, misteriosa y suave. Un corazón de almizcle exaltado por 3 facetas : floral, ambarina y amaderada. Un frasco con un corazón negro de líneas depuradas. Un estuche rosa suave.
Y perfumisimo.com-
Un perfume ámbar, maderoso para la mujer moderna. Transmite sofisticación, intriga y sensualidad.Primeras notas de flor de miel, flor de naranjo y amberlyn, vainilla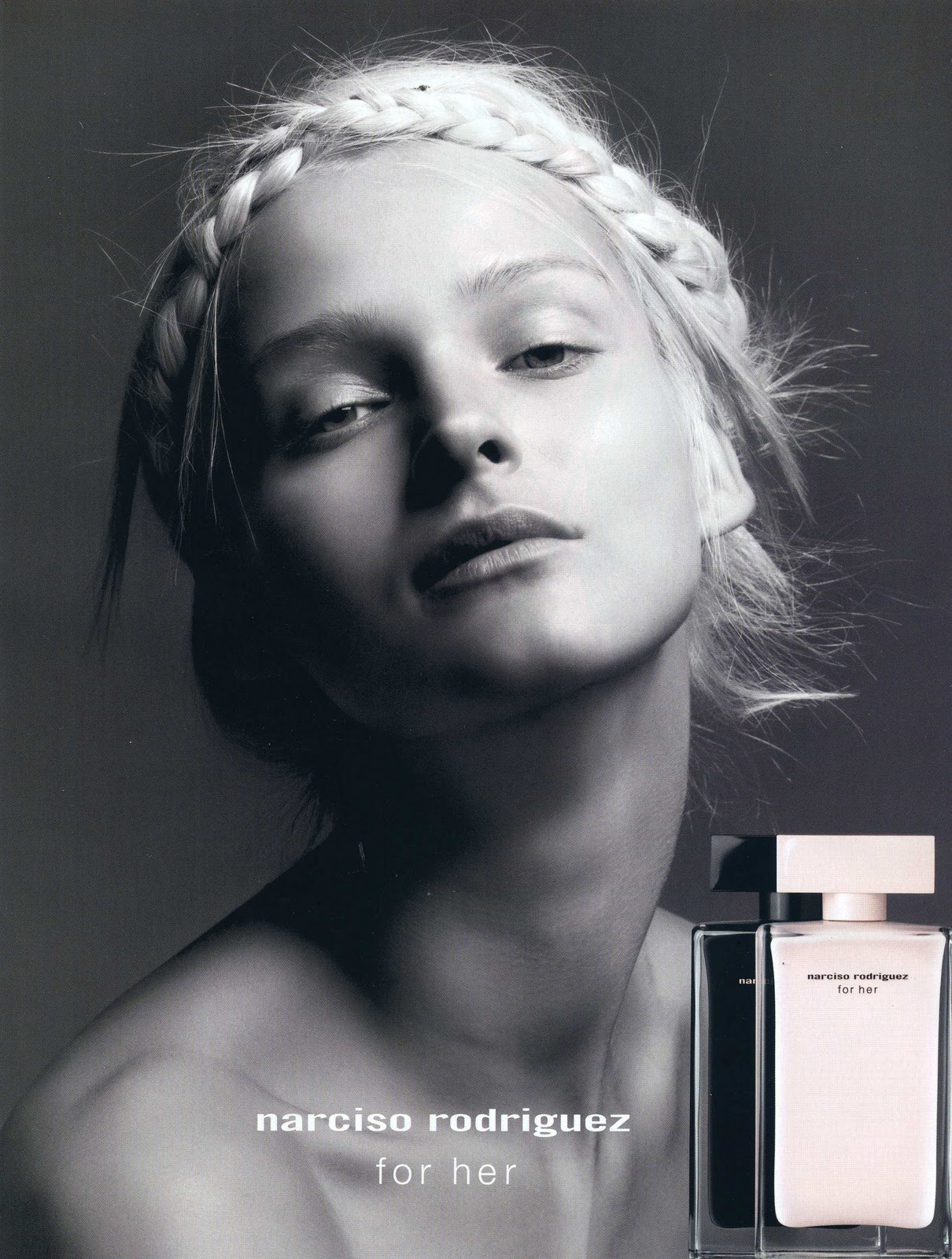 Carmen Kass giving good face.
I´
ve also heard there´s a hair mist to go with it...
Have you tried Her by Narciso Rodriguez? What fragance would you wear on your wedding day?
Escuche que hay un spray para el pelo del mismo...
¿Lo has probado? ¿Que fragancia te gustaría para tu boda?